Canada invests over $2.4 million in meat processing technology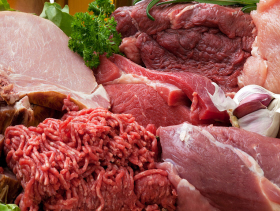 Intelligent imaging system inspects meat quality
Canada's Agriculture Minister Marie-Claude Bibeau and MP Bardish Chagger yesterday announced an investment of $2,430,023 for P&P Optica Inc. under the AgriInnovate program to help develop and showcase its innovative food inspection technology made in Canada for meat processors.
The company has developed an intelligent imaging system to automatically inspect meat on the production line. The system analyzes the composition of foods, evaluating properties such as tenderness, freshness and their protein, water and fat content. It can detect blemishes and remove foreign bodies like plastic, bone and rubber. These tasks are performed directly on the production line in real time, generating information that processors can use to improve their products, manage suppliers and optimize production.
This investment will help P&P Optica Inc. build demonstration units that will allow them to showcase their technology to potential users. P&P Optica Inc.'s mission is to help processors improve the safety and quality of their products, make the food supply more sustainable and reduce food waste.
The investment will also build a demonstration room to optimize their technology for use by potential meat processing customers. This hyperspectral imaging technology assesses the safety and freshness of meat products by analyzing color and moisture. It also provides a wide range of data to processors.
Investing in automated inspection technologies like the intelligent imaging system from P&P Optica Inc. creates new market opportunities, grows the economy and ensures the sustainability of the Canadian meat industry.
"Canada's processors are adopting new technologies to increase production and deliver quality products across the country and around the world," said Bibeau. "The technology of P&P Optica inc. provides processors with essential information that provides many benefits, including helping to reduce food waste. Our government is committed to investing in innovative projects that support the long-term growth and success of our agriculture and agri-food sector. ."
"I commend P&P Optica Inc. for its leadership in developing rapid, real-time technology to assess meat quality," added Chagger. "Not only is the company an innovator in Canada and abroad, but it is also a community leader right here in Waterloo. Our support for the company's innovative approach will help meat processors improve quality and sustainability.
"P&P Optica Inc. is grateful for the support of the federal Department of Agriculture and Agri-Food under the AgriInnovate program. PPO is focused on working with food processors to improve the safety and quality of our food supply, while reducing waste," said Olga Pawluczyk. , CEO of P&P Optica Inc. "We are delighted to have the opportunity to promote our automated inspection system, which is already working in plants across the United States, to Canadian meat processors. We believe the "The Canadian meat industry, already a world leader in product quality, can further increase our competitive advantage by using technologies such as PPO's intelligent imaging system."