Locomotive restored to help Nokian Tires' Dayton plant handle increasing volume of raw materials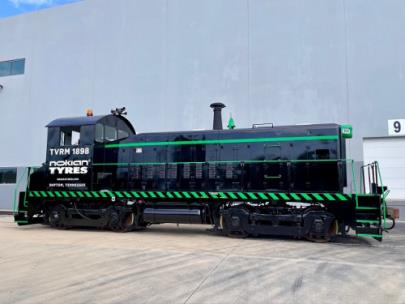 The Commercial Railroad helped build the manufacturing economy of Southeast Tennessee. Now he is helping Nokian Tires increase supply to its growing North American tire plant, with a nod to the region's rich rail history.
The global tire manufacturer is partnering with the Tennessee Valley Railroad Museum to use a restored locomotive to deliver raw materials to its factory storage warehouse. The locomotive will pull railcars a one-mile distance between the Norfolk Southern rail line and the facility's storage bay, allowing Nokian Tires to smoothly process the growing volume of materials needed to meet growing demand for factory-produced tires, and reduce reliance on trucking in favor of a more efficient and durable option.
"This locomotive helps us reliably handle larger quantities of material and streamline our processes," said Daniel Dobbs, transport manager at Nokian Tyres. "It's a step in the right direction to support the plant as we continue to ramp up production."
Nokian Tires' Dayton plant is connected to the Norfolk Southern rail line via 5,000 feet of track which terminates at its rubber compounding building. The plant is the foundation of Nokian Tires' growth plan in North America, and production volume there is increasing as the company meets growing demand for its products in North America. The factory workforce has grown from 150 team members to around 330 in 2021, and Nokian Tires continues to hire workers to join its team.
The locomotive has a colorful history of service in the United States: built in 1951, it served in Korea with the US Army before being used by the US Air Force to move rockets at Cape Kennedy in the 1960s. It was again used by the United States Army before being donated to the Tennessee Valley Railroad Museum. Now it bears the Nokian Tires brand.
"The Tennessee Valley Railroad Museum supports our rail preservation efforts through a growing railroad switching operation," said museum president Tim Andrews. "These operations provide a safe, fast and cost-effective service to companies like Nokian Tires that help grow the region's manufacturing footprint."
"As we grow in serving our customers and drivers, we want to grow in a way that honors our community and respects the environment," said David Korda, COO of Nokian Tires Dayton Factory. "This locomotive helps us transport more raw materials to our factory in a sustainable way, while partnering with an organization that preserves the rich history of rail in this region.
"Nokian Tires reinforces our shared commitment to sustainability by leveraging a piece of rail history to service its state-of-the-art manufacturing plant," said Jacob Weir, director of industrial development at Norfolk Southern. . "Rail is the most sustainable method of shipping freight over land, and together we are reducing carbon emissions in materials in motion, while connecting Nokian Tires to markets across the United States and the world.
Nokian Tires was recognized for sustainability and factory culture. Last October, it was the first company in Rhea County to receive a Governor's Award for Environmental Stewardship, the state's highest sustainability award. Last year, the Chattanooga Regional Manufacturers Association awarded Nokian Tires the Company of the Year award.
"The Dayton plant will allow Nokian Tires to strengthen its relationship with North American customers by tailoring its product line to the needs of drivers in the region," officials said.