Michelin launches a clean technology park project in a former German tire factory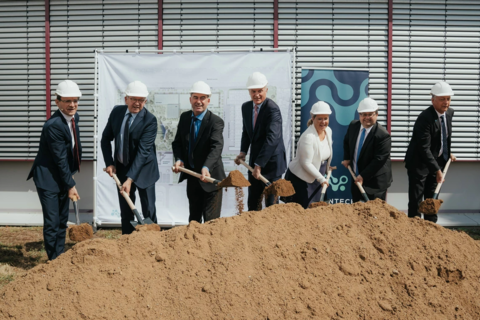 Bamberg site to house "renowned" companies, start-ups and research institutes, including the Fraunhofer Institute
Hallstadt, Germany – Michelin has officially launched a "revitalization project" to transform its former tire production plant in Bamberg, Hallstadt, into a clean technology innovation park.
During a ceremony on June 7, Hubert Aiwanger, Bavarian Minister of State for the Economy and Florent Menegaux, President of the Michelin Group, officially laid the first stone of the center, which will be dedicated to sustainable innovation.
The tire manufacturing plant will be "totally reinvented" to accommodate "companies specializing in artificial intelligence, digitization and sustainable mobility (hydrogen and electromobility)," Michelin said in a statement.
The 8,000 m2 facility aims to support the automotive industry in northern Bavaria, supporting technologies that help reduce CO2 emissions.
The centre, said Michelin, will bring together a unique network of skills from renowned companies, start-ups and universities and research institutes such as the Fraunhofer Institute as well as the universities of Bamberg, Bayreuth and Friedrich-Alexander. in Nuremberg-Erlangen.
Michelin, which will finance the project, has devoted 37 million euros to the complete overhaul of the site, which should be operational at the end of 2023.
In operation since 1971, the Bamberg site manufactures 8 million tires a year, mainly 16-inch passenger car tyres, demand for which is falling sharply worldwide.
Michelin closed the site in early 2021, citing structural changes in the market, including growing competition from cheap imports.
This is the second Michelin site to be "revitalised", after a similar conversion program at the French group's production site in Dundee, Scotland.
A similar operation is also underway in La Roche-sur-Yon, France, where Michelin once produced truck tires.