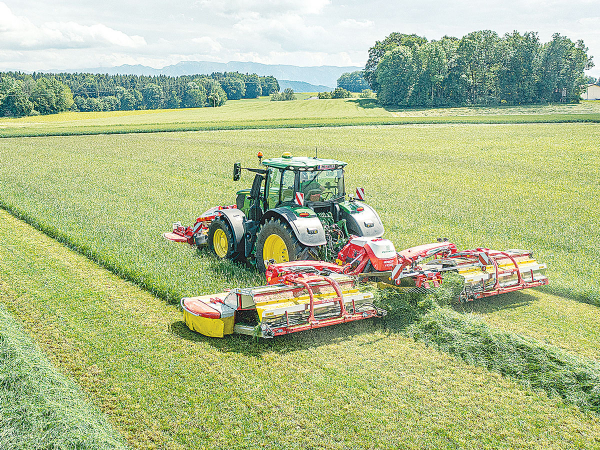 Grassland specialist Pöttinger has launched a new range of products and innovations for the new mowing season.
On the mowing front, the Novacat V 10000 is available with a headstock suitable for 3.0 or 3.5 meter wide front mowers, combined with rear butterfly units to provide working widths of up to 9.62 and 10.02 meters. As an option, the NOVACAT V 10000 can be fitted with the Collector transverse conveyor and the CROSS FLOW auger for windrow consolidation.
Like its predecessor Novacat A10, the new combo would be exceptionally adaptable and easy to use thanks to an electronic and hydraulic update.
Hydraulic cylinders integrated into the booms move the cutter bar up to 370 mm on each side, allowing optimum overlap and perfect mowing quality on slopes or on bends.
The ground pressure automatically adapts to the working width, providing less soil damage, better forage quality and reduced wear.
The driveline layout takes the form of a patented Y DRIVE input gearbox which has the advantage that longer standard PTO shafts can be used with less operating angle.
A choice of machine control sees the latest ISOBUS-compatible SELECT pre-selection control system as standard. All functions can be pre-selected and executed using the tractor's remote valves, requiring only one double-acting hydraulic connection.
The control system lifts the mower units individually, while hydraulics are also used to fold up the optional side guards, adjust the working width and operate the transport lock.
The second control option is the optional ISOBUS compatible system, either using an ISOBUS tractor terminal, the new third generation POWER CONTROL, EXPERT 75, or the CCI 1200 control terminal. A new feature is activation of Section Control, using the standard work computer, allowing individual mower units to be automatically raised and lowered at the headland, based on GPS position.
Further innovations include the optional auto-tilt system which, on slopes, automatically moves the mower units so that no drag remains standing, even if the mower combination drifts sideways.
Another new product, the HIT V 11100 tedder uses 1.42 m rotors to achieve a working width of 10.70 m. The new machine is fitted with a ball eye and linkage combined with two hydraulic centering cylinders as standard in the swivel head.
Said to follow perfectly during tedding, the centering action of the hydraulic cylinders ensures smooth guiding of the ten rotors without swaying. The preload pressure of the cylinders prevents the machine from moving downhill, while each set is equipped with a nitrogen accumulator to dampen horizontal movements while an additional rubber bumper absorbs shocks.
When lifting at the headland, the tedder first dips slightly at the linkage (elongated hole), before the headstock centering cylinders retract, allowing the tedder to move smoothly to the central position. The tilting action during lifting also causes the rotors to tilt backwards. This ensures that the tines do not rub against the ground, which helps to keep the forage clean.