Plantations dreaming of FSC status for rubber products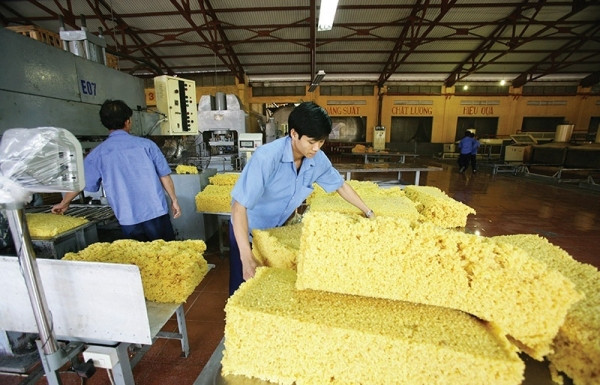 Nguyen Vinh Phuong, the owner of a 150-hectare rubber plantation in southeastern Tay Ninh province, has recently spent more time studying the process of obtaining FSC certification. Although he is interested in the sustainable cultivation of rubber, he remains hesitant to implement this process.
Phuong pointed out that the rule of a 10% conservation area seems to be an impractical requirement for smallholders of plantation areas. The rule would mean that Phuong would lose $1,500 over 10 days of rubber mining if he kept 10% of his 150ha plantation area for conservation.
Besides state-owned companies such as Tan Bien Rubber and Tay Ninh Rubber, 12 private companies compete for rubber supplies. Phuong was confident that he would not lose VND105 million ($4,520) per month during the tough market caused by rising production expenses, shortage of rubber tappers and intensifying price competition.
Lien Anh Rubber Co., Ltd. in Tay Ninh missed the opportunity to obtain FSC certification given the 10% conservation area requirement. Phan Do Trong Nhan, the company's purchasing manager, said: "So far, we have complied with eight of the 10 principles established by the FSC. However, we face challenges in keeping 10% of the rubber space for conservation.
"Many smallholders do not agree to fulfill this requirement," Nhan said. "It is difficult to talk to smallholders to meet this requirement, although Lien Anh has offered supportive policies as well as rubber maintenance and operation techniques."
Overseas buyers from the United States and Europe are willing to pay a higher price for FSC-certified rubber, but that's a long-term issue, Nhan added. "Currently, the purchase price of rubber between companies with FSC-PM and without FSC-PM is almost equal because people know too little about FSC."
Lien Anh exports 60% of rubber to the Chinese market, 20% to the EU and US markets, and the rest for domestic consumption. "Many Chinese buyers offer a new price as soon as our rubber is FSC certified," Nhan said. "Right now, many Chinese buyers are still buying uncertified rubber because its government hasn't tightened its grip on sustainability regulations."
According to Nhan, Lien Anh considered sustainable development, but the initial investment for FSC certification is very large, accounting for around 35% of the expenditure. In the near future, Lien Anh will try to comply with the regulation of the conservation area over an area of ​​123ha. He calls it the company's flexibility to achieve FSC certification in August this year. However, the company is still struggling to implement these regulations in its development project of 7,000 ha in 2027.
Due to increasing pressure, some Vietnamese companies have invested in sustainable development to improve environmental and social conditions in rubber plantation areas. Bui Quang Ninh, CEO of Daklak Rubber JSC (Dakruco), expected the company to soon obtain FSC certification to sell rubber at a higher price.
Dakruco faces three challenges in meeting the FSC criteria, including initial investment capital, conservation area requirement, and the ability to change rubber farmers' lifestyles. Dakruco manages 11,300 ha of rubber land, including 1,670 ha in Cambodia.
There are a small number of FSC-certified rubber plantation areas in Vietnam, but obtaining certification is no small feat. Vietnam Rubber Group (VRG) is a perfect illustration of this challenge. In 2017, after 18 months of trials, VRG obtained the FSC for two rubber plantations in Vietnam with a total area of ​​11,700 ha. It was quite small compared to its total rubber space of 550,000 ha at the time.
In addition to the FSC, many independent non-governmental organizations oversee the activities of its members. As a general rule, FSC certification is valid for five years. During this time, the FSC will make four visits to the certified holders to assess their compliance with the requirements set out by this organization. Certificates issued will be suspended or revoked for unsatisfactory cases.
Phan Tran Hong Van-Deputy General Secretary Vietnam Rubber Association
There is growing pressure to promote the sustainable development of Vietnam's rubber industry by improving the environment and social conditions in rubber plantation areas. There are 256,000 rubber smallholders who own 479,600 ha, or just over half of the total plantation area in Vietnam.
Of these, 426,000 ha are being extracted for rubber. It should supply 732,000 tons of dried latex per year, or 62% of the total latex exploited in the entire rubber-growing area of ​​the country.
Vu Thi Que Anh – Project Coordinator, FSC Vietnam
Vietnamese companies have paid more attention to the application of FSC forest management standards. However, they struggle to meet the criteria. FSC Vietnam is actively working with rubber companies to resolve issues.
The development of FSC-certified rubber plantation areas will open up new opportunities for companies to improve their competitiveness, increase their yield and penetrate deeper into the global supply chain. According to FSC statistics, FSC-certified products have a higher economic value than the same types of products by around 20-30%. This helps protect natural resources from misuse.
Nguyen Vinh Quang – Specialist, Forest Trends
Vietnam is the world's third largest supplier of natural rubber. Since the majority of rubber is not accredited with sustainable certification, the selling prices of Vietnamese rubber remain low. Fragmented and small-scale production affects the quality of rubber inputs, making it difficult to obtain sustainable certifications. Connecting overseas buyers with smallholder communities and rubber companies is key to building a sustainable supply chain. As a result, Vietnam can gradually produce FSC-certified rubber.
There are two forest certification systems in the world: the Program for the Endorsement of Forest Certification (PEFC) and the Forest Stewardship Council (FSC). The criteria for the latter are stricter than those for the former.
FSC is a non-governmental organization established in 1993, operating independently without profit. It is a voluntary standard to support responsible forest management globally. The FSC has more than 850 members in 50 countries.
FSC has developed a set of 10 Principles and 56 Forest Stewardship Criteria, which are categorized into three standards. First, certification confirms that the forest is managed in a way that preserves biological diversity and benefits the lives of local people and workers while ensuring its economic viability.
Second, FSC chain of custody certification provides credible assurance that products sold with a claim come from well-managed forests, controlled sources, or reclaimed materials.
Third, FSC controlled wood certification requires certificate holders who use controlled wood to reduce the risk of using wood products from undesirable sources in products bearing the FSC label.
Source: VIR