Position predicted by the authors of The Guardian: 16 (NB: this is not necessarily Will Unwin's prediction but the average advice from our editors)
Position from last season: 17th
Odds of winning the league (via Oddschecker): 750-1
The plan
One could be forgiven for thinking that Burnley would intend to look up after five seasons in the Premier League, but the strategy will be to reach 40 points and work from there.
Last season started with two points from their first seven games after a summer where the only signings were £ 1million midfielder Dale Stephens and third-choice goalkeeper Will Norris on a free, while the club waited a takeover of ALK Capital. This time around, only defenseman Nathan Collins and goalie Wayne Hennessey arrived, the latter on a free kick.
Collins, a 20-year-old signed from Stoke, is certainly a step up from what was available to replace Ben Mee and James Tarkowski, whose absence was key to their miserable start to last season, with Phil Bardsley and Kevin Long poor knockoffs. Collins has potential for improvement and could be a sign of a new policy of recruiting young players with long-term prospects.
Burnley's starting XI is tough and knows how to get the job done, but problems arise when a key man is missing, with last season's bench being one of the weakest in the league. Dyche hopes to invest more owners' money, but he will only sign those who have the attributes to make a difference and, more importantly, the characteristics to settle into a tight-knit squad that has been together for several seasons. Equally important for Dyche, maintaining the integral components of his squad, with Tarkowski in the final year of his contract and Dwight McNeil sparking the interest of his Premier League rivals. Finding replacements would be complicated for a team built on a proven formula.
The focus is on signing the competition for McNeil and Johann Berg Gudmundsson, as it was clear Burnley lacked momentum on the bench when he had to change a game last season. Many players have been linked but Dyche will be frustrated with the lack of business. They missed Ashley Young at Aston Villa after having talks with the winger, much to the club's dismay. Substantial work is underway on other potential targets, but they will need to act quickly to avoid missing players who could make a real difference and further irritate the manager.
Potentially more interesting than watching Burnley climb to 40 points is how things change off the field. Owners are improving the structure of football, from coaching to recruiting, with artificial intelligence helping to find talent. One app recruited 28 players from around the world to be invited to the trial. Under-23s and youngsters are seeing a redesign as Burnley gets a much-needed refresh after taking the academy from category three status to status, a big leap even for a Premier League side. Turf Moor has been refreshed and given a lick of paint as they prepare to welcome fans back to their aging stadium.
While there are a lot of changes, the only thing the owners want to ensure is the presence of Dyche, another with less than 12 months on his contract. The manager has been linked with a number of positions in the past and the slow pace of transfer activities at Burnley may make him start thinking about a move.
The director
After almost a decade on Turf Moor, it's fair to say that we know what we're getting with the Gruff-Voiced Dyche. The 50-year-old has attracted interest from other clubs but has remained loyal. He's spent locked out press conferences trying to ease boredom by discussing look-alikes, but his team is a little less entertaining and more designed for efficiency. Dyche knows how to get the most out of his players and make sure they keep giving it their all, repeating the same drills and sticking to a style that has kept Burnley above the precipice for the past five seasons. Sharing an apartment with his assistant, Ian Woan, strengthened the relationship rather than damaging it – they even go as far as a weekly meal on Thursday evenings when they treat each other a glass of wine.
Key player
Ben Mee missed the first six games of last season when they collected a point. Over the summer, the captain marked 10 years with the club and he helped shape the team. The central defender sets an example for others. He is one of the most committed players in the league, has made the most of his natural talent, and uses intelligence and relentless determination to keep the opposition from scoring.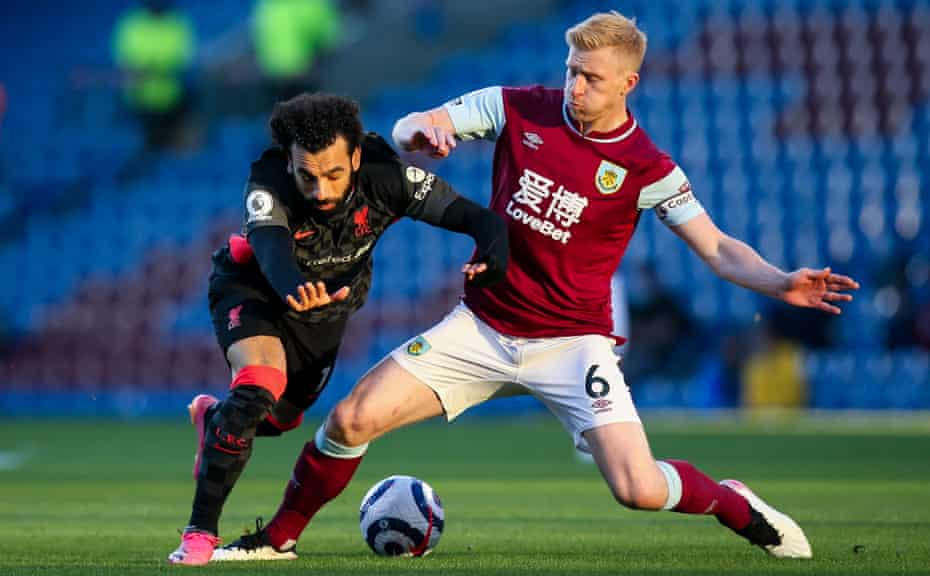 The owners
ALK Capital has been in office for less than a year, so the jury is still out, especially since Covid has kept fans at bay. Although U.S. investors arrived in December, no players were added in January to a struggling team looking over their shoulders at the relegation zone, but the purse strings were loosened slightly in hopes of 'see others. President Alan Pace has been praised in town and elsewhere for criticizing the concept of the European Super League. "The six Premier League clubs that have taken this step have turned their backs on our moral duty as game keepers to protect English football," Pace wrote in a letter to the fans.
Factor Euros
Czech Republic striker Matej Vydra was the only member of the squad to qualify for the Euro. Nick Pope would have been England's second-choice keeper if injury hadn't ruled him out, but no other was particularly close. Vydra managed 35 minutes in three replacement matches, including the loss to England at Wembley as his country reached the quarter-finals, before losing to Denmark in Baku.
we will sing
"In our Lancashire homes we speak with an extremely rare accent, Burnley's long side will always be there, in our Lancashire homes." Fans stayed at home for 16 months except for a few thousand who were welcomed to Turf Moor for the visit to Liverpool in May. Mee said he struggled without fans because the games didn't have the same buzz, so they will be welcomed with open arms, but not their planes.
Return to Turf Moor
Good: If you reach the top of the James Hargreaves stand, you will have a wonderful view of the hills.
The bad: Fans are paying for planes to fly over, although the last time was during an away game at the Etihad.